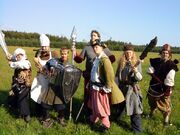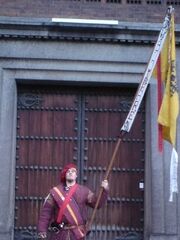 Menneskerne i Fauntasia er langt det største folk, der lærer hurtigt og forstår at arbejde effektivt sammen mod og med alle de andre racer. Menneskerne har tilgengæld ingen magiske gaver fra guderne eller skjulte, mystiske egenskaber, men de er heller ikke avisende overfor det og kan blive næsten hvad som helst. Mennesker lever i ordnede og strukturede samfund, med Kongen af Fauntasia i toppen af hierarkiet, skarpt forfulgt af baroner, lensherrer og andet godtfolk. I bunden er de udstødte, tyvene, tiggerne og de usle. Monarkiet har også tilknyttet en kirkeorden og har en længerestående aftale med Fontænen om oplæringen af hofmagikere og af Fauntasias menneskebefolkning. Menneskerne er universelt styrede af Kongeloven, som det er den enkelte lensherre, borgmester eller anden titelholders pligt at udøve i sit område. Dette sker ved hjælp af det disciplinerede og toptrænede vagtværn, der for den almindelige borger synonymt med kongemagten, nemlig Den Blå Garde.
Mennesker er loyale væsener, ofte med selviske træk, men alligevel loyale overfor dem der står over dem, værende det en adelsmand, en håndværkermester eller det arrede overhovede for et tyvelaug.
Menneskene findes af alle slags, både gode og onde og vil vælge deres alliancer ud fra disse følelser.
Kongeriget Fauntasia
Edit
De Fire Fyrstedømmer
Edit
Gyldenhåb - Under Rigets marsk Mikkel Fauntasius
Regnum - Under fyrsten Harald Abicus Løvenborg
Ravsnhede - Under fyrsten Hans Raveskjold
Adelstern - Under fyrsten Wilhelm von Adelstern
Kongeloven
Edit
Ad blocker interference detected!
Wikia is a free-to-use site that makes money from advertising. We have a modified experience for viewers using ad blockers

Wikia is not accessible if you've made further modifications. Remove the custom ad blocker rule(s) and the page will load as expected.